**This post may contain affiliate links for products I recommend. If you click a link and buy something I may receive some compensation. This does not change the price you would pay.**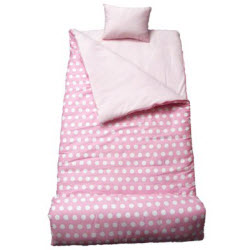 My sister and I picked out what we think are some of the best sleeping bags for girls and put together a list of the ones we think are perfect for different situations.

Sleepovers and camping were significant parts of our childhood. We went camping for at least three weeks every summer for years. My sister is the youngest in our family and she was only a few months old when she went on her first trip with us. Over time, each of us acquired our own sleeping bag – drab, olive Colemans. They were great for camping and very warm but not really very cute. This was our chance to go back and choose the ones we would have loved to have had when we were young.
Our Favorite Cute Sleeping Bag for Sleepovers
Classic Pink and White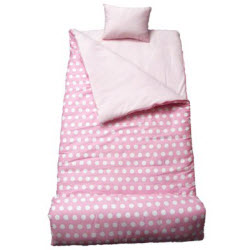 Girl's Pink and White Polka Dot Sleeping Bag
I've bought a couple of sleeping bags for my kids over the years and the one thing I regret is buying one that had a character theme that my child then outgrew. Once they no longer liked that character, they no longer wanted to take the sleeping bag with them to their friends' houses for sleepovers which would – eventually – lead to my getting a new one.
This SoHo sleeping bag has a very pretty, pink print that works for toddlers as well as it works for older children. The brand name has very positive ratings online.
The external fabric is soft cotton so there's none of that slipping around that you get from the ones that have that shiny, exterior fabric.
If your daughter is anything like my niece, this bag will match her pink bedding.
Pink, Black and White Zebra Print Sleeping Bag
Reversible, too!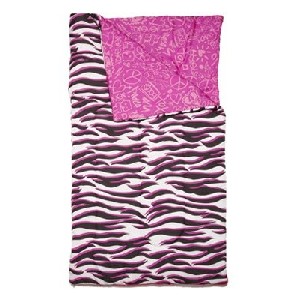 Three Cheers for Girls Wild Thing Reversible Sleeping Bag
When I was a teenager, my best friend and I would have these amazing sleepovers at her house. We'd invite two or three other girls, make chocolate chip cookies, dance around in our pajamas, watch scary movies and then eventually crash in sleeping bags spread throughout the living room. By the next morning, it looked like a pink paint palette had exploded.
Getting ready to go to a sleepover was all about two things – the sleeping bag and the pajamas. Taking along your brother's ratty old, green bag was simply not acceptable. You'd be a laughing stock! Having your own, cool version was a necessity – much to the dismay of my mother who had to take me out once to find "just the right one".
This bag is reversible so you get a trendy zebra print on one side and a pink print inside with peace symbols and hearts. You get two looks in one.
Best Camping Sleeping Bag for Girls
Love the scoop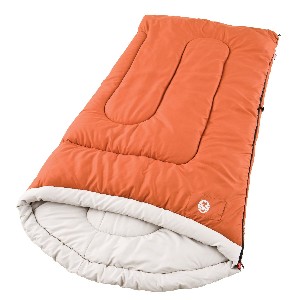 Coleman Sabine Large Cold-Weather Scoop Sleeping Bag
One thing I hate about sleeping bags is the square top. I can't tell you how many times I've tucked my pillow in so it was resting on the bottom of the bag and then pulled the top over me and been smacked in the face with the zipper. You want your pillow to be clean but then it positions you right under the top of the bag and I don't want my head to be covered.
This scoop design fixes all of that. You can still protect your pillow by putting it on the bag but the top has been cut away so it's not going to flop over your face.
Coleman has several temperature options for warm to cold weather. I prefer to buy something warmer than I think I'll need because I can always fold the top part away if I'm too hot but you'll have a miserable experience if your bag isn't thick enough to keep you warm at night.
The "Oh, If Only!" Sleeping Bag
"Totes cute!" as they say on Disney
This is the "if I had a girl" and "if she were into ballet" and "if I didn't care what price I paid" sleeping bag.
If Coleman crashed into a boutique baby store this is what would happen. It's a youth sized bag shaped like a ballet slipper. If you have a little dancer in your family and her closet is filled with tutus then how could you settle for anything less than this? (Other than the price…cough cough.)
I'm thinking that if they had a style for every hobby mine would have to look like a laptop – kind of the shape of most bags, now that I think about it. I'd just have to applique on a keyboard and screen.
Truly, though, this is one very pretty, very girly option!
When Your Tomboy Wants a Sleeping Bag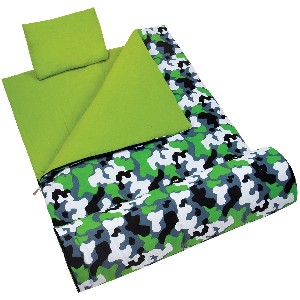 Wildkin Camouflage Sleeping Bag
My brother has three girls and the youngest is a complete tomboy. No pink for her, thank you very much. She plays sports, she's competitive, she's independent and she doesn't care what her friends are wearing or doing. She knows what she likes and she loves hanging out with her boy cousins.
She's absolutely adorable, too, and I've enjoyed watching her grow into herself. She's just about a year older than my youngest and the two of them get along very well. When we go to visit my parents, the kids will spend the night over at my brother's house and all the kids hang out in the basement. There's a big entertainment center and play area they built down there so the kids can watch TV and play games.
This is just the kind of sleeping bag she'd prefer.