**This post may contain affiliate links for products I recommend. If you click a link and buy something I may receive some compensation. This does not change the price you would pay.**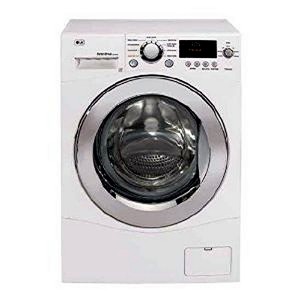 These are some great options for an apartment size washer and dryer for anyone who wants to do their laundry at home but doesn't have enough space to dedicate to a full size set. They're as efficient and reliable as regular models but have a serious focus on saving space.
There are a number of different styles that are best suited including a stackable unit, a combination – or all in one – style, or portable models that can be pulled out from a closet or storage area only when you need them.

Apartment Size Washer and Dryer Combo Machines
Combination models with dual functionality
When you're really pressed for space – which can be the case for an apartment laundry closet – a combination washer and dryer in one can give you the ability to wash and dry your clothes at home without requiring a lot of room.
The trade off is that you can't wash and dry two different loads at the same time. Capacity and the number of people in the home are important considerations for one of these units. Most of these are 2.7 cubic feet inside which will accommodate 10-15 bath towels.
An alternative is to look at the latest models of separate units which can often be stacked but some of them are so tall that reaching the dryer on top can be difficult for anyone who is short – like me.

LG 2.7 CF COMBO Space Saving WASHER-DRYER WHITE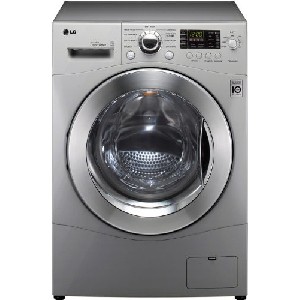 LG WM3455HS 24 Front Load Compact Washer/Dryer Combo , 2.7 cu. ft. Capacity – Silver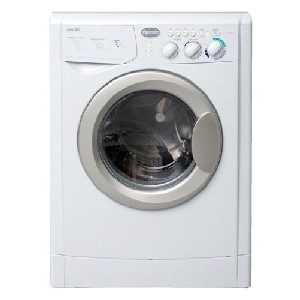 Splendide WD2100XC White Vented Washer/Dryer Combo
Best Value Ventless Combination Washer and Dryer for Apartments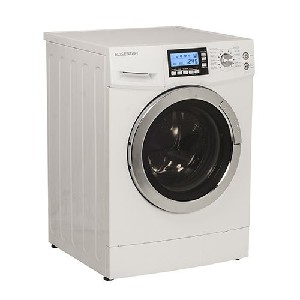 EdgeStar
2.0 Cu. Ft. Ventless Combo Washer Dryer
Why is this the best value? First, it's over $100 cheaper on Amazon than I've found anywhere else online. Second, comparable options cost several hundred dollars more (as much as $400!). If you're on a budget but want reliable performance in one unit, this is a great deal.
Best of all, it's ventless so you don't need to worry about disbursing dryer air to the outside.
I scoured reviews of the EdgeStar 2.0 combo ventless washer and dryer and found it had an average rating of just over 4 stars – a pleasant surprise on a bargain appliance.
Here's what you need to know before you buy:

Requires a dedicated circuit with standard 110V outlet
LED control panel with lock option and dial control
Delay time option
Dimensions: 23.5″ wide, 33.5″ tall, 20.5″ deep (36″ with the door fully open)
3 compartment dispensing drawer for pre-wash, detergent/bleach, and fabric softener
Capacity: Cotton Wash 15 lbs, Cotton Drying 7.5 lbs
Cyclonic drying technology for faster, more efficient drying and fewer wrinkles
Automatic locking glass door opens from the right (non-reversible)
Settings for: cotton, heavy duty, permanent press, delicate, hand wash/wool, baby wear, speed wash, self clean, rinse & spin, spin
2 dry-only modes: 50 min preset and cotton/normal
According to several reports, it operates quietly, the controls are easy to use, and the backlit display is helpful if you have low lighting in your laundry area.
Stackable Apartment Sized Washer and Dryer Set
Some apartments have a tall closet area with a washer and dryer hook up but they're only wide enough to hold a stacked unit. These are some of the most popular models. There are both gas and electric options. I've sorted them based on what I think are the best choices after reviewing the price, ratings, and performance.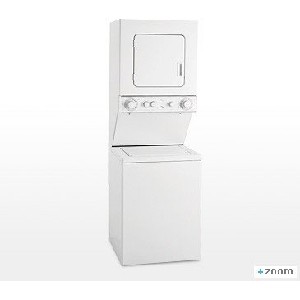 Whirlpool 24 Inch Thin-Twin Stacked Washer and Dryer Electric Laundry Set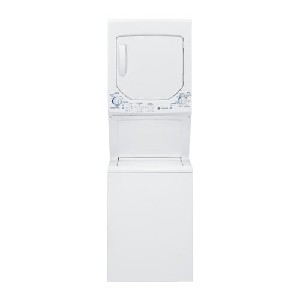 GE 2.2 Cu. Ft. Washer and 4.4 Cu. Ft. Stackable Electric Dryer Laundry Center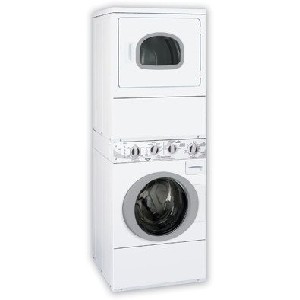 Speed Queen Stacking ATE50 Washer and Dryer
Ventless Dryer for Apartments and Condos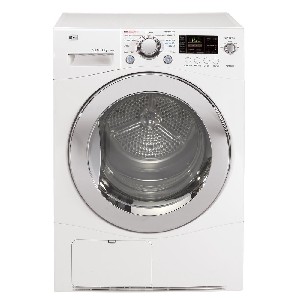 EdgeStar
LG 4.2 CF 24 inch Apartment Electric Ventless Condenser Dryer
Many apartments or condos have space you could dedicate to a laundry area but no ventilation set up to send the dryer air outside. That's when you need a ventless option. Even if you can use a vented dryer, you might want to consider one of these appliances simply for their efficiency.
These are also called condenser dryers because they use the hot air that would normally be sent outside to speed up the drying process. They're more efficient and easier to set up.
Portable Washing Machines for Apartments and Small Homes
When you don't have an actual washer and dryer hookup in your apartment, a portable washer is one of the best alternatives to making trips to a common laundry center. They're compact, most are on wheels, and only need to be brought out when you need to run a load of laundry. When you move, just pack it up and take it with you.
I had a dishwasher that was like this and it was so easy to use. Since you probably have at least two faucets available to you – one in the kitchen and one in a bathroom – you won't be without water just because you're washing some clothes.

Haier HLP23E Electronic 1-1/2-Cubic-Foot Touch Pulsator Top-Loading Portable Washing Machine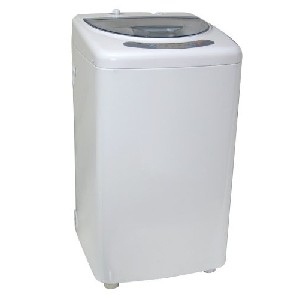 Haier HLP21N 6.6-Pound Pulsator Wash with Stainless Steel Tub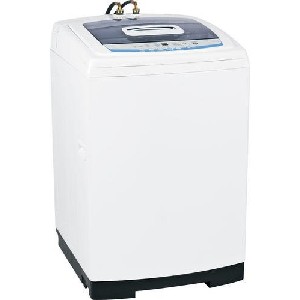 GE WSLP1500JWW 26 3.1 cu. Ft. Portable Top-Loader Washer White
Haier HLP21N Pulsator 1-Cubic-Foot Portable Washer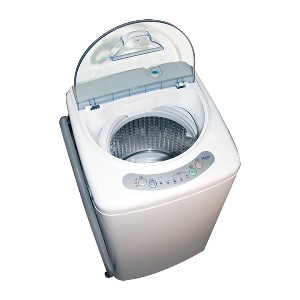 EdgeStar
This is one of the best selling portable washing machines and popular with those who live in apartments.
You can store it in a closet, a spare room, or in an attached garage and just pull it out when you need to do laundry. It connects to your sink and is relatively quiet. For it's size, it still holds a decent load of laundry.
The video below shows the Haier HPL21N in operation so you can see the hookups and hear how it sounds when it's running.
Apartment Size Washer
If you have room for only side by side units, these washers should be on your list. They're large on capacity but without a lot of bulk. All but one is 27 inches or less in width while a couple even handle extra sized loads.
One consideration apartment dwellers may need to consider is sound. Thin walls between rooms, a laundry closet right near your living room, or having your neighbor complain about beeping sounds coming from your dryer can all be annoying. The Speed Queen washer has extra insulation built in for sound-proofing and is whisper quiet during operation.
Many of these also have matching dryers but if you have only room for one – either a washer or a dryer – opt for the washer. You can always hang clothes to dry and let air do the work for you even if you have to hang them in the bathroom but washing clothes by hand is an absolute pain.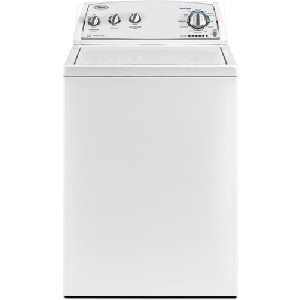 Thin Whirlpool WTW4850XQ 27 Top-Load Washer 3.4 cu. ft. Capacity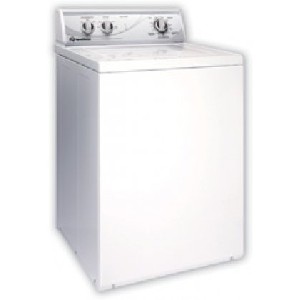 APARTMENT QUIET! Speed Queen Top Load Washer With 3.3 cu. ft. Stainless Steel Wash Tub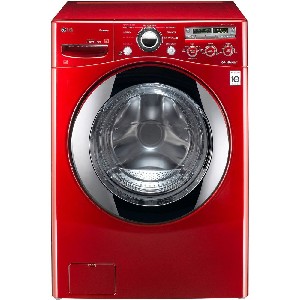 LG WM2650 SteamWasher with ColdWash Technology, Wild Cherry Red
Apartment Size Dryer
New apartments might be designed for the size of today's dryer designs but lots of us live in older apartments where the larger dryers won't work.
In that case, it's important to look for the ones that are narrow enough to fit older floor plans.
My brother owns a town home that, while good sized, still only has a small closet allocated to laundry space. To find dryers sized to fit, I focused on those that don't have lots of unnecessary cabinet space surrounding the main part of the machine.
These are standard electric dryers that all cost under $600.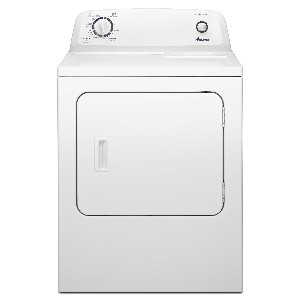 Amana 6.5 cu. ft. Apartment Size Electric Dryer with Automatic Dryness Control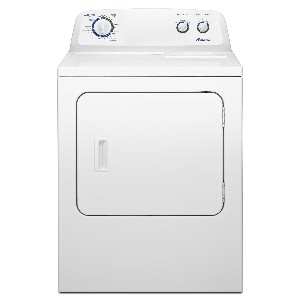 Amana 7.0 cu. ft. Traditional Electric Dryer with Interior Drum Light, NED4700YQ, White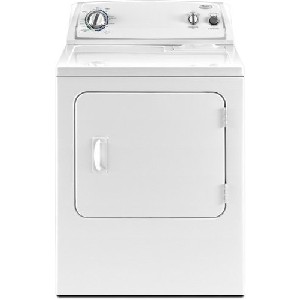 Whirlpool WED4800XQ Space Saving Basic Clothes Dryer

I've lived in a number of small homes where I had to come up with creative solutions for laundry space. In some cases, I had to put the units in a shed outside or convert a closet into an area where I could put a portable unit. Either way, I was far happier doing my laundry at home without having to run to (or pay for) a laundromat. My husband feels much the same way. When we first met, he was living in an apartment and would take any quarter he had in his change and put it in a jar he'd labeled "The Laundry Jar".