**This post may contain affiliate links for products I recommend. If you click a link and buy something I may receive some compensation. This does not change the price you would pay.**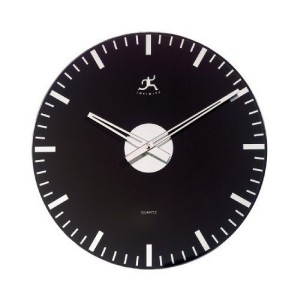 Black wall clocks are a beautiful way to decorate blank walls. Mix these stylish but functional options with other wall decor to take your home from plain to fabulous and give your room a whole new look.
Black has a wonderful reputation for going well with anything.
From antique to modern…there's still something classic about an artistically crafted clock.

Simple Black Wall Clocks
Wall clocks can be used in various ways although the most common is certainly as a decoration for bare walls. There are other ways to bring these scientific wonders into your home. Consider using one on an outside patio so the kids can see the time while playing in the backyard or swimming in the pool. Another popular use is in the garage, where working hands may become too dirty to handle a watch or a cell phone.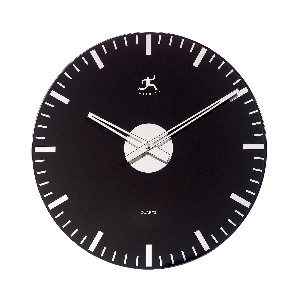 Infinity Instruments
Black Glass Wall Clock
14.1 inches


Seiko Wall Clock
Black Metallic Case
Quiet Sweep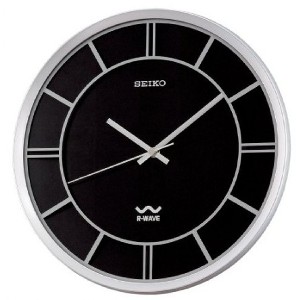 Black Seiko Wall Clock
R-Wave
Self Adjusting for Daylight Savings

Square Black Wall Clocks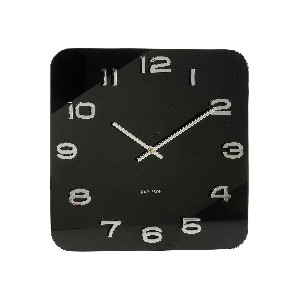 Karlsson Square Wall Clock Vintage Glass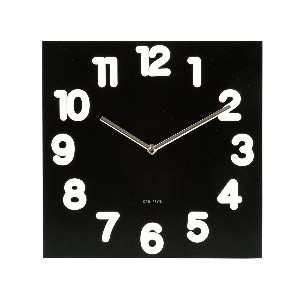 Present Time Karlsson Juicy Black MDF and White Numbers Wall Clock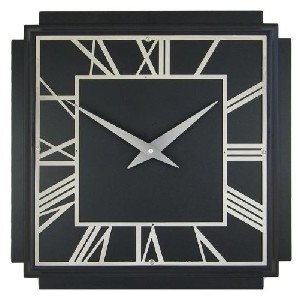 Roger Lascelles A Square Wooden Black Deco Wall Clock


Designer Black Wall Clocks
Mixing with art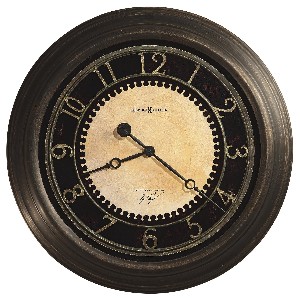 Antique Brass and Black Wall Clock


Black Architectural Wall Clock

A wall clock by itself can help fill blank space, but pair it with similarly styled wall art and you create a tableau of color, textures and design which give greater visual appeal than the clock would give by itself. You can do this insider or outside. For those of you who live in the desert, like I do, and spend a lot of time outside, patio walls benefit from large wall clocks, too.
Sunburst Black Wall Clocks
Retro and Modern Clocks for Walls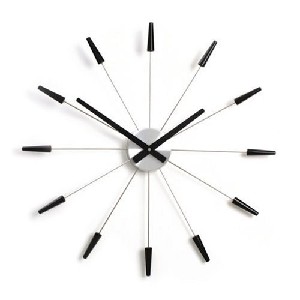 Metal Black
Sunburst Wall Clock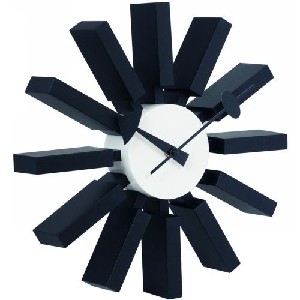 Black ZUO Smith Wall Clock
Black and White

How Wall Clocks Work – Things to Know Before You Buy
Timing mechanisms
At work, I have one coworker who is always 5 minutes late to every meeting. When he hasn't shown up on time, I reassure all the other attendees that he will walk in the door five minutes late, and I'm always right. The reason? The wall clock on his side of the building is constantly five minutes behind. We update it frequently but it's just always moving faster than other clocks. Then there are the clocks that move too fast and are always ahead (an employee's favorite clock, by the way).
They tend to be either battery operated with a quartz timer or may be described as atomic clocks.
A quartz timed clock contains a small bit of quartz crystal shaped like a tuning fork. The battery drives an electrical pulse which bends the crystal prongs. When the charge stops, the crystal returns to its regular shape which causes another electrical impulse. The crystals are specifically sized to cause a pulse in time and drive the clock's hands. Quartz timed clocks are more accurate than the older mechanical clocks. Hang on to any directions that come with the clock explaining how to change the battery.
A true atomic clock is the most accurate and used by scientists because of their unwavering precision. However, it was only in 2008 that the technology was developed to make smaller, atomic timers suitable for consumer purposes. Therefore, most clocks available to consumers today and advertised as "atomic" are either quartz or radio timed and the term "atomic" applies only to the fact that the clock's time is based on time derived from the National Bureau of Standards Atomic Clock.
Make Your Own Black Wall Clock
Get creative!
Make your own black wall clocks with dinner plates in designs you choose. This is a simple project that makes for a great black wall clock for a kitchen or dining room. Your choices are endless – use an old, black plate that has no matches, buy an extra plate that matches the ones you use, or use a single, outstanding black dinner plate you love.
Great project for an office or garage – especially if you're an avid cyclist. This clock project is built using a rotor. It actually looks pretty, darn slick.
Unique Wall Clock from HGTV
Use floral wreath frames
I love those DIY shows that help you redo an entire room. Seems they can take a tablecloth, an old chair, and a can of paint and suddenly a room is transformed into a palatial suite. Check out this crafty idea for using wire wreath frames on the wall and a timing mechanism to make a large, unique wall clock.
Great Places for Black Wall Clocks
It wasn't until we moved into a new house in the desert that we started shopping for something that would match the colors in our home. With lots of beige and tan interior decor and floor tile, black seemed a natural accent especially with the look of stone and some old world charm.
One of my favorite channels on TV is the HGTV channel because it's filled with shows about decorating or redesigning your home. A tip designers often explain is to mix up your existing belongings to freshen up your home.
Select a black wall clock and find other pieces you already own to combine on one wall in a new way<. Black and white family prints, for example, look classic matched with a black wall clock. While the kitchen and living room are obvious places to put a wall clock, there are other rooms of your home that could benefit from a practical and artistic piece. Family rooms, game rooms, and kids bedrooms are obvious choices. Master bathrooms are another great option. More often than not, we're in the bathroom getting ready to go somewhere and we have to leave on time. An attractive wall clock is one way to make sure you leave on time.