**This post may contain affiliate links for products I recommend. If you click a link and buy something I may receive some compensation. This does not change the price you would pay.**
When I first saw the SteamFast SP-660, my initial thought was that there's no way I'd be able to iron my dress blouses with that! However, after a thorough review of this table top steam press, I've changed my mind.
It's obviously not the solution for those who need to iron a lot of very large items on a regular basis because of its smaller size but for most individuals and families with regular laundry needs, it's a great solution that will handle pants, tablecloths, sheets, and shirts.
The multiple fabric settings make it flexible enough for lots of fabrics and it's very easy to use. Let's get into the details.

Table of Contents: Features / How it Works / Pressing Plate / Setting & Controls / Water Tank / Accessories / Power & Cord / Dimensions / Pros / Cons / Reviews / Price & Summary
Handles A Variety of Fabrics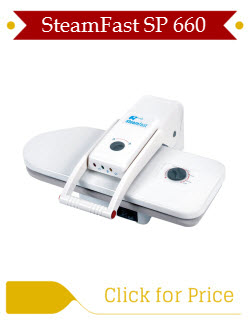 If the idea of cutting your dry cleaning expenses or getting through your ironing more quickly while seated comfortably at your kitchen table sounds right up your alley, you're going to want to familiarize yourself with the features and benefits of this model.
This is a portable steam press with an aluminum base that has the iron built in. The "iron" is a large, rectangular surface that you press down on your clothes so you can get to both sides of your item at one time – hence, the claim that you can save 50% of the time it takes you to iron today. It's similar to the commercial ones used by dry cleaners but meant for home use and can be used right at your kitchen table
.Commercial models like the Reliable 424HAB Professional Ironing Pressing Table can cost as much as $4300! With the SteamFast SP 660, you get the same wrinkle-free look and sharp creases without handing over $5 per shirt or pair of pants and all for under $200.
List of Features
Non-stick ironing surface that covers 3.2 square feet which is 8 times more coverage than a standard 11.5 x 5 inch iron so you get the job done more quickly
Steam bursts with the push of a button to help eliminate wrinkles
Ironing board pad included to protect the pressing plate, your buttons and zippers
Presser cushion for delicate work
10 oz water tank so you won't have to refill as often
Auto-shut off safety feature protects your clothing from accidental burns
Locking handle becomes a carry handle so you can easily move it from place to place
Multiple temperature settings to handle a variety of fabrics
Convenient cord storage drawer so you don't trip on the cord in between uses
How it Works
I know – it's an iron, how difficult could it be, right? Yes, getting it ready is simple: fill the water tank, plug in the unit, turn it on and set your temperature setting. Wait a few minutes for the unit to heat up. When the green light turns off, you're good to go.
The actual pressing of the clothes though is different, and that takes a little practice. With a regular iron, you move the iron back and forth over your clothing and reposition your clothing as needed. With a steam press, you move only the piece of clothing and then pull the handle of the presser plate down so it can press both sides at of the fabric at once.
The tricky part is that there is a hinge at the back which means larger garments are going to bunch up around that back piece so you need to start with one side of the item, let the material on the other side bunch up around the hinge, and then work towards the other side of your clothing by pulling it closer to you with each subsequent press. Pants are going to be done differently from shirts which would be done differently from dresses and all of it different than a traditional iron.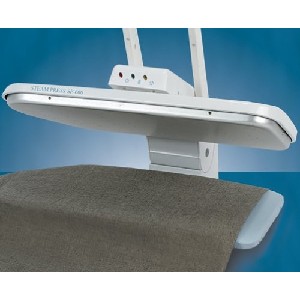 Despite the initial learning curve, the creases are sharp and – for pants, especially – you get the crease lines right where you want them and in the same position in the front and back and on both legs since you can do both legs at once which is an immediate time saver. Kids' pants can be done in one or two presses and adult pants might take you three presses (top, middle, and bottom of the leg).
You only need to hold the presser plate down for about 10 seconds. (Don't worry – my review found it will beep if you keep it down too long.) If you want to send a burst of steam to the fabric, do so by pulling the presser plate down part way and pressing the button on the end of the handle.
When you're done, turn off the unit, unplug it, lock the presser plate down and stow the cord in the storage slot. It's that simple. No more complicated than stowing your regular iron.
The SteamFast SP-660 works for pants, dress shirts, work uniforms, jeans, t-shirts, children's school uniforms, blouses, dresses, sheets, table cloths, place mats (you know how they're always wadding up in the dryer?), pillow cases, curtains and even bulkier items like your winter coats.
For those of you who sew, this will really come in handy for prepping your material before cutting out your patterns, for fusible interfacing, and for getting the wrinkles out of your quilts once you've finished them. You can also steam press your completed embroidery projects, clothing, curtains, baby clothes and other craft projects.
I think the greatest benefit is that you can put this on a flat surface such as your kitchen counter or the dining room table. The outside of the machine doesn't get hot so your wood table tops are safe. Because it doesn't stand very high, you can even sit at the table while pressing your clothes.
Now, I have one of those long, thin laundry rooms where you can't really put an ironing board so I have to haul my laundry to another room, drag my ironing board and iron out of the closet and go through a whole exercise to get everything ready. However, the SP-660 would fit right on top of my washing machine and I could just pull the clothes out of the dryer, press them right there and even stow the steam press in between the washer and dryer.
Pad and Pressing Plate
The top of the steam press is called the presser plate. This is the part that heats up to press your clothes and disburses steam when the burst buttons are pushed. It's made of non-stick stainless steel so it won't cling to your fabric but will lift off easily.
The padded bottom half of the press acts as a replacement for a classic ironing board. The pad can be removed and thrown in the wash if it gets dirty. The pad acts as a cushion, so when you pull the pressing plate down on dress shirts with button up fronts, the buttons will just press down into the pad and not get in the way of the presser plate doing its job. The same goes for zippers. This I had to see to believe – what, no more wiggling my iron around and under every button on my husband's shirts?!
I reviewed a demonstration of someone pressing a dress shirt with a steam press. The shirt front was laid under the press, buttons facing up, and the press was pulled down part way, a burst of steam was generated by pressing the button and then the press was pulled all the way down onto the shirt. When the press was lifted, the wrinkles were gone, the buttons were not harmed and there was no extra work needed to deal with the fabric around the buttons. Very slick!
SteamFast SP- 660 Settings and Controls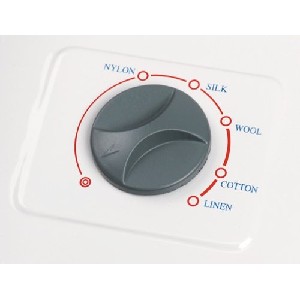 There are just a couple of control knobs so there are no complicated controls. Anyone could learn to turn the steam press on, change the settings, and turn it off. An on/off switch on the back starts or stops the heating process. One knob on the top right is the temperature control dial with fabric settings for Linen, Cotton, Wool, Silk and Nylon. You can set the dial anywhere in between those settings to further fine-tune the heat. You can even press specialty fabrics that require the lightest of temperature settings.
There are two steam burst buttons, each located on one end of the handle. When you're holding the handle, you can easily reach the button with your thumb and since there is one at each end you can reach one of the buttons whether you are right or left handed.
On the top center of the unit is a locking knob. When locked, they presser plate stays in the down position and you can then carry the whole thing by the handle with one hand.
Three indicator lights on the top tell you if the power is on, when the presser plate is still heating up, and when the water has heated sufficiently to produce steam.
The steam press automatically shuts off if it's left in the down position for more than 10 seconds or left in the up position for more than 15 minutes. This is a great safety feature.
There's also an auto-wake feature so that if the auto-shut-off has been activated because the presser plate was left up or down, you just have to move the presser plate the opposite direction (up or down) to cause the unit to heat back up. This reminds me of the power savers you find on copier machines. The auto-wake is only engaged when the SteamFast SP-660 is plugged in and turned on.
Water Tank Size
The water tank holds 10 ounces (1 ¼ cups) of water. The tank pulls out from the unit just enough to expose the reservoir cap. Remove the cap to fill the tank with water. The included measuring cup has a spout so you can pour water into that hole without making a mess. It would have been nice if my regular iron had come with one of those.
Accessories
Included Accessories
Measuring cup – for filling the water reservoir
Spray bottle – for spraying fabric that needs extra moisture for a crisp press
Pressing cushion – to protect delicate fabric or for use with cap sleeves, pleats, or special detailing on your clothing
Optional Accessories
There's a stand for the SP-660 that you can purchase separately. The stand folds up so it stores easily and has an attachment rack where you can hang your clothes but it has only one height setting and resembles a TV tray you'd use in your living room. It's designed for you to use while you're sitting down. You're just as well off skipping the stand unless the rack seems like something you'd like to have or if you have no place near the TV to place the steam press and you really want to do your laundry in your living room.
Power and Cord
The SteamFast SP-660 uses 1300 watts of power and has a 6.6 foot long power cord. The cord stores in a pull out drawer in the bottom of the press. I like this better than having to wrap the cord around a base like I have to do with my regular iron. Not that a retractable cord wouldn't be better but I'd settle for being able to just wad it up in the drawer.
Dimensions
Some retail sites have the wrong information regarding the size so pay careful attention.
These specs are straight from the manufacturer:
Weight: 19.64 pound
Height: 8.19 inches
Length: 22.95 inches
Width: 20.51 inches
Warranty
The manufacturer offers a limited one year warranty but this does not cover commercial use – only residential use. You'll have to call the manufacturer for a return authorization. The contact information is located inside the manual.
Pros – Selling Points of the SP-660 Steam Press
Makes professional level creases
Faster for most clothing and household items but may take longer for very detailed blouses with ruffles and embellishments
Can be used on the table or counter
Great for fabric crafts, fusing, and prepping your sewing fabric
Irons both sides of your garments at once
Nice entry level option because of the comparatively low cost and good performance
The biggest reason consumers mentioned for buying the SteamFast SP-660 table top steam press was the desire to reduce their dry cleaning costs.
Spending statistics concerning average dry cleaning costs are not readily available but even if you're paying just $10 a week in dry cleaning expenses, you'll be profiting from your purchase after 18 weeks. If you count savings on gas the time frame is much shorter (depending on distance traveled).
Cons – What You Need to Know Before You Buy
You may want to keep your old iron because pressing fussy blouses or dresses may seem easier the old way – both About.com and Consumer Reports agree
It will take time and practice to obtain a comfort level similar to that of your regular iron
On the small side compared to other table top steam presses but larger home steam presses can cost another $100 over the price of the SteamFast SP-660
SteamFast SP-660 Consumer Reviews and Ratings
Overall, consumers who have used SteamFast SP-660 steam press are pleased with the performance of this table top steam press. If there was one common issue it was that folks found it to be smaller than they expected.
It's a great entry level option and very effective despite its compact nature. I encourage you to pull out a measuring tape and mark out the dimensions so you know how much work space you're going to have.
Price and Final Review
The SP 660 price I found on Amazon is on the low end of the scale for a table top steam press you can use at home.
For a table top steam press, the SteamFast SP-660 is an affordable option with a proven track record. This model has been on the market since 2004 and no issues have been reported.
Consumers continue to give this steam press above average ratings. It's on the small side but larger options cost considerably more. As long as you understand the overall size and are comfortable with it, you'll find you can get through your laundry more quickly than with a regular iron and get the look of commercially pressed clothes – all while keeping more of that dry cleaning money in your own wallet.