**This post may contain affiliate links for products I recommend. If you click a link and buy something I may receive some compensation. This does not change the price you would pay.**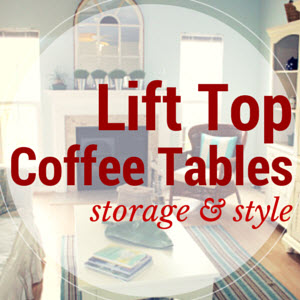 Often, the first thought when looking for new furniture is how it will look in a room but as these lift top coffee tables demonstrate, function is just as important.
These beautiful pieces can improve the livability of your living room. They can provide an additional work space for a laptop, position gaming equipment at reach while you're comfortably seated on the sofa and give couples a place to eat dinner while watching their favorite television shows all without the need for moving furniture or storing separate standing trays.
Click to see a selection of the best rated lift top coffee tables
Table of Contents: With Storage / Getting the Right Size / How They can be Used / Different Shapes & Finishes / How to Choose the Best One
Lift Top Coffee Tables with Storage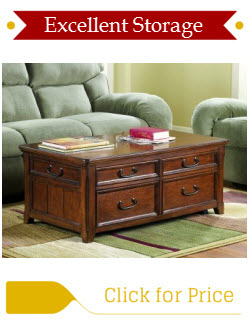 I don't know of a house that couldn't benefit from extra storage and shopping for a new coffee table gives you the perfect opportunity to add more.
Lift tops come in two styles and one offers more storage than the other.
The first is more traditionally shaped with an open space between the top and the floor. It might have a base where you can place knick knacks or magazines.
The second style is shaped like a trunk. There's no open area between the top and the floor but a greater amount of hidden storage space inside. Additional pull out drawers hold games, books, or craft projects. The larger inside space can hold blankets and pillows.
Besides more storage, those that are trunk style require just a little less dusting thanks to not having that added base at the floor level. (I can't be the only person who hates to dust that area!)
Getting the Right Size – Small or Large?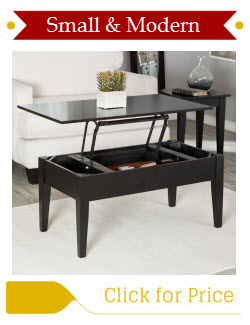 Getting the right sized furniture is important for designing a comfortable and useful room. Wayfair has a coffee table size guide that gives some helpful information about measurements to consider when choosing a coffee table that will best fit your room.
With lift top coffee tables there's the additional measurements to understand around how the top moves. You'll want to know how high the table lifts and how much forward it pulls forward, if it does – not all of them do. Some have tops that only lift to reveal extra storage.
When we moved into our new house we replaced all of our living room furniture. The set we'd had was pieced together from things each of us had acquired before we were even married. It was mismatched and old. It had served its purpose and then some.
We went to a local furniture store and picked out this large sectional we thought would be perfect, along with a large, square coffee table. When a salesman came to help us he asked for the size of our living room. When we gave that to him his immediate reaction was that what we'd chosen was too large. We thought he was crazy but he showed us something close to what we'd wanted but smaller and then told us to go home and measure out the space where that sectional and table would be sitting. Darn if he wasn't right – the other table would have been way too much for the space.
Great for Dining, Gaming, Desk & Games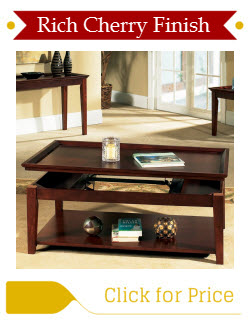 There are many reasons for looking at lift top coffee tables and using them as an eating surface in front of the TV is only one of them.
The increased use of mobile technology like laptops, notebooks and tablets both reduces the amount of workspace needed to get things done online but also means that we can have these devices closer to us than standard desktops.
This means that you can more readily convert living room space into a work area and back again by lifting the coffee table top.
They can also be handy for crafting, sewing, doing puzzles, and playing board games. The size of a coffee table is easier to use for games but if you, like me, find sitting or kneeling on the floor uncomfortable, then you'll love having the opportunity to sit on your cozy sofa while still being able to play Candy Land with your children or grandchildren.
Adding extra storage space is another benefit. Many such tables are designed like a trunk with a full base of storage underneath the top. This provides an ideal location for storing magazines, blankets, and pillows.
Different Lift Top Shapes and Finishes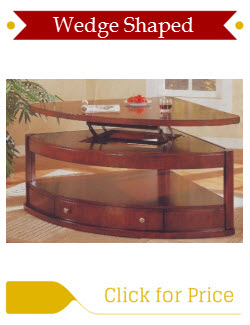 Coffee tables are often rectangular but they don't have to be and, in fact, a rectangular table may not make the best use of your space.
If you have a sectional with sides that are equal in length, a rectangle in front of them may look awkward or uneven. In those cases, a wedge or pie shaped lift top might give a more balanced appearance.
There are also square and round options available – some of which offer a larger work space or multiple lift tops and more work space.
You may find it helps to mark off different shapes in your living room to see which would look and fit best with your existing furniture.
The selection of color finishes is nearly overwhelming these days but take cues from the fabric in your sofa, the color of paint in your room, and coordinating colors in the carpet and decor. If your furniture is already trimmed in oak, then look for oak tables to match. If you're room has more red and cherry tones then look for a table with a cherry finish.
You'll also find white, black, espresso and a variety of light and dark finishes and wood materials available.
How to Choose the Best Lift Top for Your Living Room
Before you choose, there are a couple of important things to keep in mind. The best lift top coffee table for you will be one that:
Fits your living room
Has a top that performs the function you need whether that be to lift straight up or lift up AND pull forward
Provide additional storage
Be sturdy enough to hold in place while using it as a desk, for gaming or for eating
Has a large enough top to serve your needs
Has safety hinges that won't pinch fingers
In addition, HGTV shares a list of other things to consider when shopping for a new coffee table including height and the space to leave between it and surrounding furniture.
If you follow a few steps you'll find it easier to make a decision amongst all the options available:
Set your budget
Determine the color or finish based on the existing theme in your room
Decide on shape based on your current square footage and available space
Choose a style – open area underneath or trunk style – based on how much additional storage you'd like
Figure out how high and how much forward you'd like the top to lift
Only look at options that meet the above criteria
Armed with that information it will be easy to say yes or no to any of the lift top coffee tables you find while shopping.