**This post may contain affiliate links for products I recommend. If you click a link and buy something I may receive some compensation. This does not change the price you would pay.**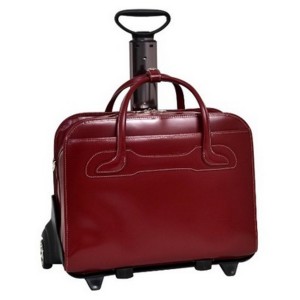 So many of us have multiple work sites or travel a great deal such that laptop bags with wheels are almost a requirement in order to keep us sane. These great choices below have your convenience in mind with extra pouches for storage, lightweight construction and some are even TSA approved so you can put them right through security without unpacking.
If you're like me, you want one that's great for women and there are some wonderfully professional, yet stylish, options!

Lightweight Wheeled Laptop Bags
Two things make up whether a bag is going to be really light or not – materials and size. The smaller the bag, the lighter it should be. For materials, leather is heavier than something like nylon. However, if you REALLY want leather but don't want something heavy, then go for a slim style.
All of the following wheeled laptop bags weigh less than 8 pounds. I've put them in order by weight from low to high.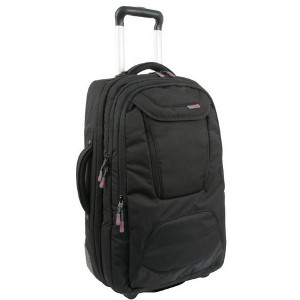 STM Bags Jet Roller 17 Inch Lightweight Wheeled Laptop Bag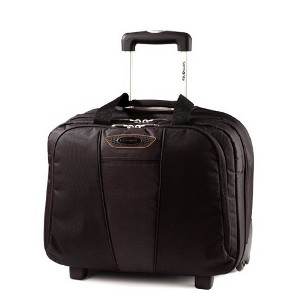 Samsonite Quantum Lightweight Wheeled Toploader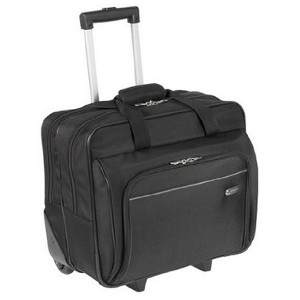 Targus 17″ Rolling Travel Laptop Case


Laptop Bags with Wheels for Women
When I traveled for work, it was always with a group of men because of the nature of my business. I loved having a bright pink computer bag because I was sure it would never get mixed up with one belonging to one of the guys.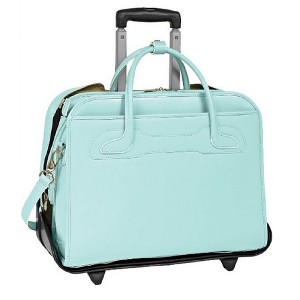 McKlein Willowbrook Leather Detachable Wheeled Womens 17 inch Laptop Bag – Multiple Colors Available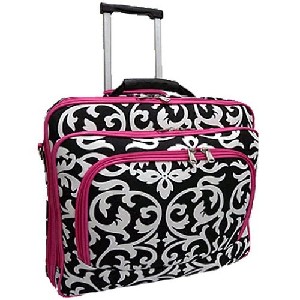 Ladies DAMASK with Pink Trim Rolling 15.5 Inch Computer Laptop Bag Brief Case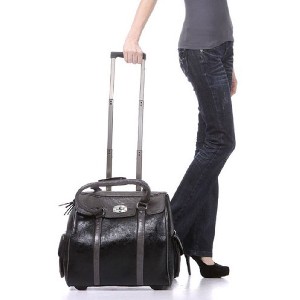 Womens Black Rolling Computer Laptop Bag


TSA Checkpoint Tested Laptop Bags with Wheels
You know what travelers pride themselves on? Getting themselves, their electronics, and their small, allotted liquids through airport security in the least amount of time and with as little hassle as possible.
We've developed whole routines for doing so, haven't we? Shoes that slip on and off easily, a plastic baggie of our small hair products tucked in a side pocket so we can pull them out in line, and anything that helps us reach our laptops as fast as possible.
These bags are all checkpoint friendly so you can get the laptop through without having to remove it or can reach it very quickly because of side pockets and velcro enclosures.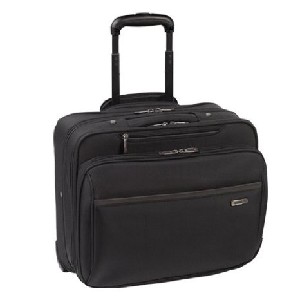 SOLO Sterling CheckFast Rolling 16 inch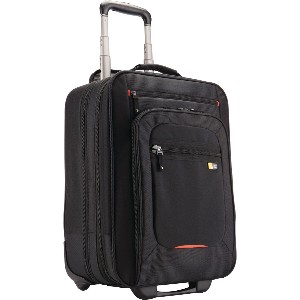 Case Logic 17-Inch Security Friendly Laptop Roller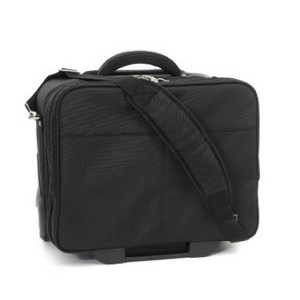 Skooba Design Checkthrough Laptop Roller


Backpack Laptop Bags with Wheels
A backpack is one of the easiest ways to carry your laptop because it leaves your hands free for other luggage or belongings. You still, though, want wheels sometimes – if you're carrying extra books or having to walk a long distance. These are great choices for students.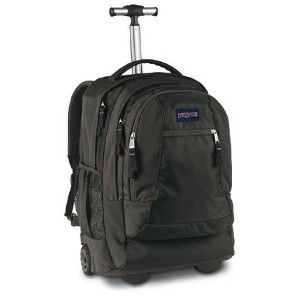 JanSport Driver 8 Core Series Wheeled Backpack
This is one of the most popular wheeled laptop backpacks. With more than 100 positive reviews online and a reasonable price, it's a great option for many people.
It protects a 15″ laptop and has extra pockets to hold your papers, books, reports, and other technical gear. It's made of durable polyester and is extremely durable.
Cheap Laptop Bags with Wheels
These cool bags all have one thing in common – they're CHEAP! All of these cost under $50 and I thought they were still pretty stylish. They've got great storage, smooth wheels for easy transport, and they're easy on the tightest of budgets.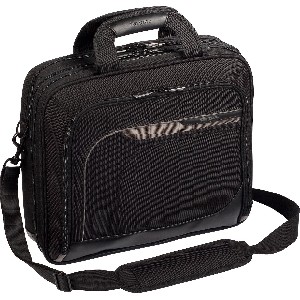 Targus Checkpoint-Friendly Mobile Elite Roller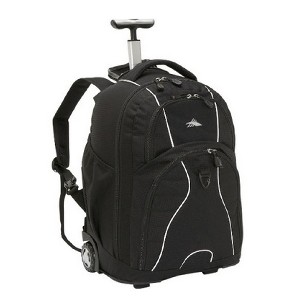 High Sierra Freewheel Wheeled Book Bag Backpack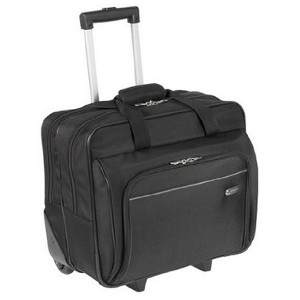 Targus 16 inch Rolling Laptop Case