**This post may contain affiliate links for products I recommend. If you click a link and buy something I may receive some compensation. This does not change the price you would pay.**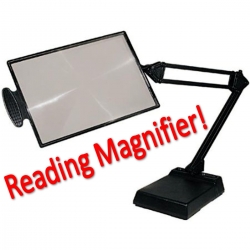 Looking for a magnifying glass on stand, but not sure what's out there in terms of features and price? No worries! I've put together a nice collection of various models for you to choose from.
The magnifying glasses selected here, whether lighted or not, are great for reading, hobbies, crafts, electronic, and jewelery related work, or any other activity that requires magnification and the use of two hands.

Large Magnifying Glass on Stand
You may need a larger than regular magnifying glass on stand like when you want to see the entire page of a book containing a photograph or illustration.
Well, this group of magnifying glasses have a large diameter glass, a solid stand, and can be adjusted to different positions.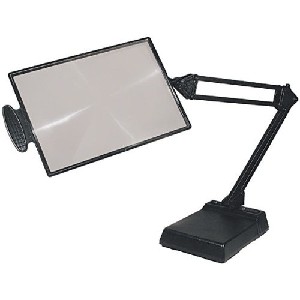 Reading Magnifier w Clamp and Desktop Base 4x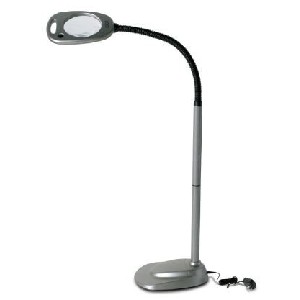 Mighty Bright LED Floor Light and Magnifier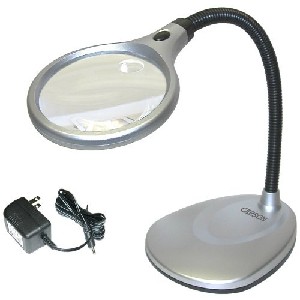 Carson LED Illuminated Magnifier and Desk Lamp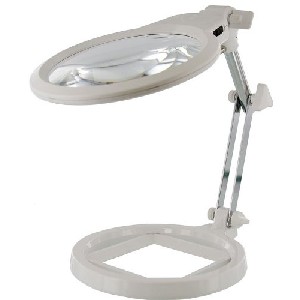 SFolding Magnifier and stand – 2x Big Lens 10x Small Lens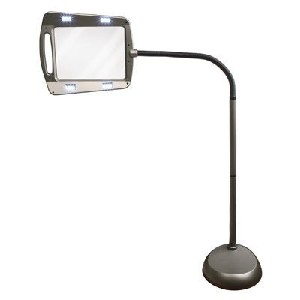 2.5X Lighted Full Page Magnifier with Flexible Neck Floor Stand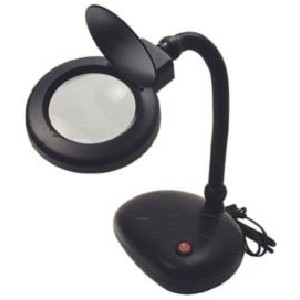 Table Magnifier Lamp – 5X – Fluorescent Light
Illuminated Magnifying Glass on Stand
All the magnifying glasses on stand in this group have the advantage of coming with a built-in light to aid in the observation of an item under any lighting conditions.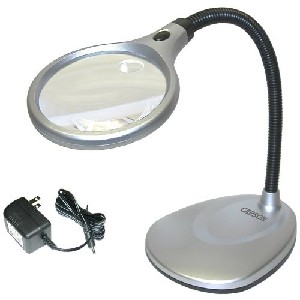 Carson LM-20 2X LED Magnifying Glass with Stand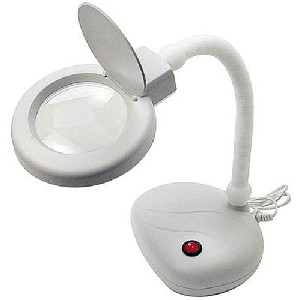 Table Magnifying Glass 5X Fluorescent Light – White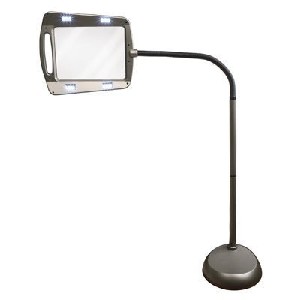 2.5X Lighted Full Page Magnifier with Flexible Neck Floor Stand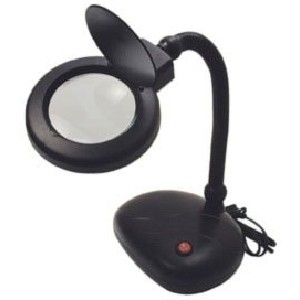 SE Table Magnifier Lamp – 5X – Fluorescent Light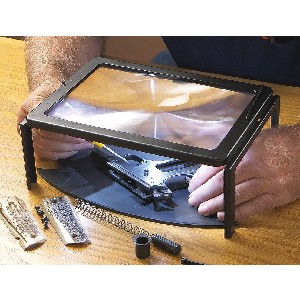 Lighted Stand Magnifying Glass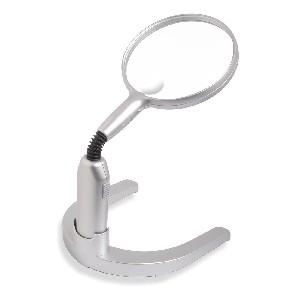 Carson MagniLamp Lighted 2-in-1 Magnifier
Carson Optical-MagniLamp LED
Soldering Station with Helping Hands and Magnifying Glass
As the name implies, the magnifying glasses shown below come with "helping hands" to facilitate all your soldering projects. The best part is that they are all under $20 online.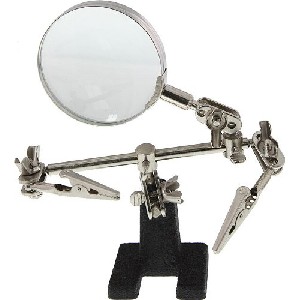 Helping Hands with Magnifying Glass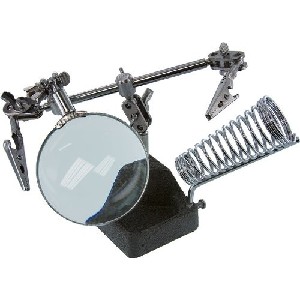 Soldering Station with Helping Hand Magnifying Glass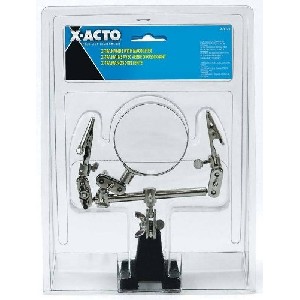 Xacto X75170 X-tra Hands with Magnifier

Soldering Iron Third-Hand Tool and Magnifier with Loupe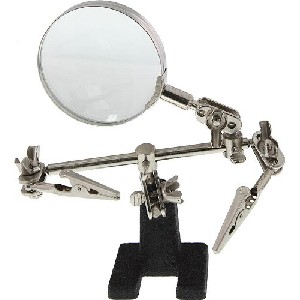 Dual Helping Hands Magnifying Glass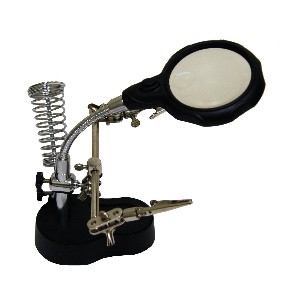 Grip Tools 55133 LED Helping Hand w Soldering Iron Holder
Carson Illuminated Magnifier & Desk Lamp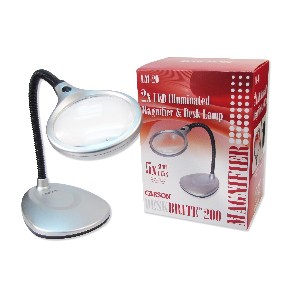 I found an ideal multipurpose Illuminated magnifying glass on a stand online at a great discounted price, and with free shipping to boot.
It comes with not one, but two bright LED lights for superior illumination under all conditions.
It has a flexible neck for perfect positioning of the magnifier.
It delivers and 2X magnification with a built-in 5X power spot lens.
This model totally portable as it only weights 1.2 lbs, and it runs on 3 AA batteries or AC power.
The Carson LM-20 is a popular model and is top rated among online consumers.
It makes a thoughtful gift for a hobbyist this Christmas.
Carson 4.3″ LED Lighted Magnifying Lamp
Magnifying Glass Table Top Mounted
Just in the remote case you have not quite found the right magnifying glass on stand yet, I thought to show you some models that are table mounted instead. I feel confident that between the two options, you'll find the perfect unit for your needs.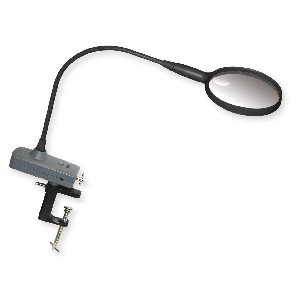 Carson Optical Hands Free Tabletop Mounted Magnifier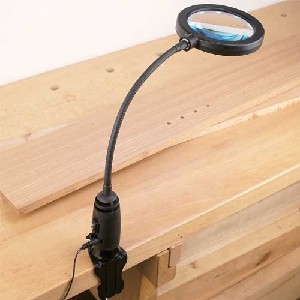 WoodRiver LED Shop Light with Magnifying Glass Head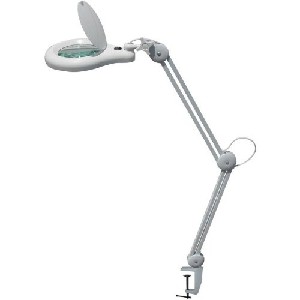 Artisan Lighted Magnifying Daylight Desk Lamp with Clamp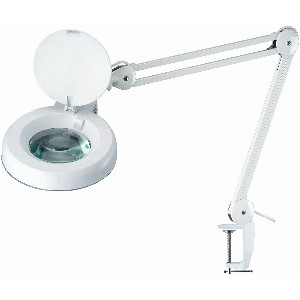 Ultra-Efficient 90 LED Magnifier Lamp – Adjustable Arm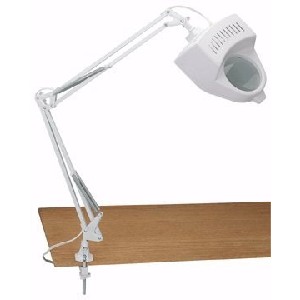 Swing Arm Magnifying Lamp with Stand

Professional 2-in-1 Spring-Arm Magnifier Lamp